Google Service has not been enabled after downgrading to Free account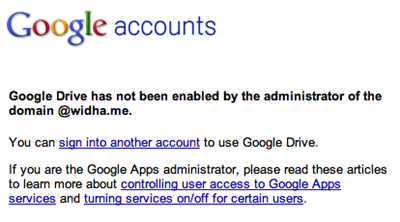 So you can no longer sign in to any of your Google Apps service after your Google Apps for business account passed its 30 days trial and is now suspended. I was also very surprised when this happened to us. I thought Google must have downgraded the account automatically as soon as this happens.
Here's what you have to do to get it back up and running again
1. Downgrade to free subscription
Log in to your Google Admin Control Panel by heading over to: https://www.google.com/a. Click sign in. Enter your domain and Make sure you pick to go to 'Domain Management'
On the top navigation go to Domain Settings > Subscriptions & Billing
Click on 'Cancel Google Apps. Yeah I know, this sounds scary and made it sound you're going to lose all your GDrive files and emails in GMail. I think it's a scare tactic to force you to start paying. Anyways, click it and you're on your path to freedom.
The screen will prompt you that this only works if you have less than 10 users : continue.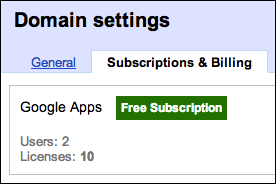 Done. You're now a Google App Free subscriber!
2. Switch Gmail Service on/off
In theory, that was all we need to do to turn our subscription back on. This was not the case for me. All the google services were still not accessible saying that the service has not been enabled by the administrator.
 Back in March 2012, apparently there was a bug where the account remain suspended after the downgrade. This is fixed in mid april.
For me the fix seem to be by turning the Gmail service on and off (relax you won't lose your emails by doing this).
To do this, you need to head over to the Google Admin Control Panel.
On the Google Apps panel, find the link 'Enable more services'

Under Core Google Services, find Gmail and flick the switch On/Off. Turn it off and back On again. Then click 'save'.
You should now have your Google Services back on!