Backing Up Your Flickr Photo sets: How to bulk download using Bulkr
If you don't already know, Flickr is currently giving away 3 months of Free Pro account upto 4th January 2013. It's a perfect time if you were to rediscover Flickr, or if you're like me, to make a backup of that hundreds and hundreds of photos that you already uploaded to Flickr years ago.
Bulkr
Introducing Bulkr, the easiest way to download and backup your Flickr photostream (or someone elses' creative commons photos for that matter).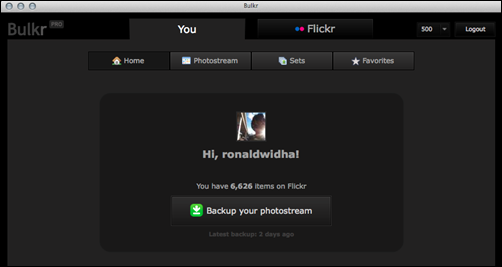 This beautifully designed and simple to use app only asks you to link your Flickr account, after which you'd be presented with 1 big button to start the backup process. Can't get any easier than that.
I've tried other Flickr download application before but none work as good as Bulkr. On my 8 Mbps broadband connection, the app went through 6,626 of my photos in less than 5 hours without any single failure. Even it did, it must've handled connection dropout gracefully and then retry.
Download title, tags, description as EXIF
The Bulkr free version lets you download all your photos in one click. However to get the most out of this wonderful little app, you probably want to consider upgrading to Pro for a mere $40 (which is currently on offer for $29.99!).
Here's what it does:
You get to download the original photos
All Flickr title tags are written to EXIF
Bulkr Pro is perfect if you're looking looking for archiving those Flickr photos in an attempt to move it to other sites like Facebook or 500px.