Getting the Mango Update on LG E900 Optimus 7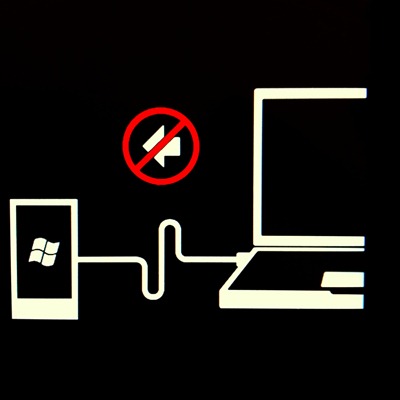 A lot of people seem to be having an issue updating their unbranded LG E900 Optimus 7 to Mango and getting Update error code 8018001E.
Someone seem to work out what the issue was and pointing the finger on the fact that an unbranded LG E900 would not have gotten a firmware update which only get rolled out by the carriers.
A friend pointed out these excellent steps on Microsoft forum on how to update the LG Optimus 7 firmware. But I had trouble understanding it so I thought I'll copy paste it below and modify it as I see appropriate to make it even easier to follow.
Step 1: Upgrade the phone's firmware
0. Download the desired firmware from the xda forum. I used  and the LG E900 Europe Open and also download the dll for your phone according to your model. The model number can be find underneath the phone's battery. Mine says LGE900
1. Download LGDP2 V36 UMTS Setup and extract, go to LGDP2_31_INCLUDE_LGDP1_Setup folder and install the exe (use serial number that is provided inside the zip). By default this will instal to C:\DOWNLOAD. I'm getting an error cannot register one of the dll right before it finished. Click ok and continue.
2. You will also have a DOWNLOAD folder as a part of the LGFP2_V36_UMTS_Setup zip above. Copy the contents of the DOWNLOAD folder to C:\DOWNLOAD). OVERWRITE when asked.
3. Download cable drivers from and Install LGUnitedMobileDriver_S497CA20_WHQL_ML_Ver_1.0. You do not need the rest inside the downloaded folder.
4. On your phone call screen, type ##634# (MFG App)
5. MFG application appears, enter 277634#*# as password and press enter
6. From ther go to 7. Engineering -> 3. Port -> 1. USB Switching Setting and select 2. QC Composite. Press ok to the info message appeared and your phone will auto reboot.
7. shut your phone back down and boot it in Emergency Download Mode by holding the Volume-, the Camera and the Power Button Simultaneously.
8. Connect your phone to your computer and your device will be recognized as a modem. Wait until the devises are installed and go to your device manager (right click on My Computer -> Manage -> Device manager ) and find the new installed modem. Go to it's properties and find on which Com port it is connected ( under the Modem tab in properties ). Also, in the device manager find one more device installed under Com Ports Category. using the same method see it's Com port as well. For me it was Com 14 and 15
disconnect your phone and turn the phone off.
9. Go to C: \ DOWNLOAD and run LGDP2_V36_UMTS.exe
IMPORTANT:
For XP users: Run with administrator privileges.
For Windows 7 Users: Run with administrator privileges in Windows XP SP3 compatibility. Some users mentioned problems if not executed in compatibility.
I got an error cannot load dll. Ignore and continue.
10. Under Division Drop down menu choose UMTS (NOT CDMA), then press OK without changing anything else.
11. Select the COM ports that you found in the device manager.
12. Select the dll you downloaded, make sure you downloaded the correct one. Be careful of the 'H'. The one for the E900 starts with LGE900_ and not LGE900H_.
13. Press RUN DOWNLOAD CONFIGURATION and select the image you are interested (the .dz firmware that you download on item 0)
13. Press OK.
14. It'll give an error the MONITOR PORT CAN NOT FIND!
15. Press START in the upper left.
 
16. Turn on the phone and usually when you see the Windows Phone logo, connect the phone to the computer using the same USB port as what you used previously.
17. The phone will go into recovery mode by itself, the flash will begin, when the software will reset command and see the LG logo appears press Stop, switch the phone off.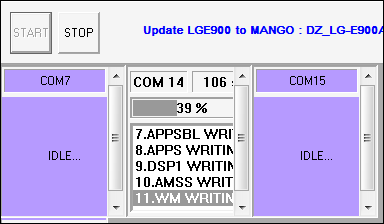 18. At this point, it's almost like you have a new Windows Phone. Configure your phone and plug it back to the computer on a different USB port. Zune will automatically launch, and finish configuring the phone. You will be asked to update the Windows Phone to Feb 2011 release. Update it.
Step 2: Force an update to Mango
To do this, I found a tip from WPCentral. Feel free to read it yourself, but essentially you need to go to zune, click update, and disconnect the internet as it is checking for new update. For me it seems you need to leave it on for 3 seconds before disconnecting it.
As what it says on the post, You need to do this a few times, so be patient.