3 tips when using IE9 as your main web browser
I started using IE9 as my default browser a month ago and even though I wasn't blown away in any sort of measure : I kinda 'don't mind' it. I stick to it ever since on my work computer (and at the same time switched from Chrome to Firefox 4 at home just to see what the fuss is all about).
There are a few things that I'm used to on Chrome and straight away became a constant annoyance, here are a few tips on resolving those:
Group my tabs on taskbar
IE by default shows previews for individual tabs in the taskbar. Even though some people might find it useful, I am nowhere near used to it. With Chrome, I like the fact that I can tell I have 2 windows open (each window might have 10+ tabs open).
Also, the fact that I constantly have 15+ tabs open, the preview in the taskbar just become such a noise.
So you could change the behavior by:
go to tools (gear icon on right hand side) > internet options > general tab > tabs > click on settings.
untick '˜show previews for individual tabs in the taskbar'.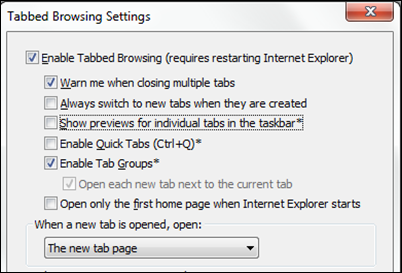 Tabs on a separate row
IE9 provides a fresh design having the Url box and Tabs on a single row. The problem for someone like me who has 10+ tabs open, it doesn't leave me with a lot of space.
This is how you change the behavior: right click anywhere near the Url box and choose Show tabs on a separate row.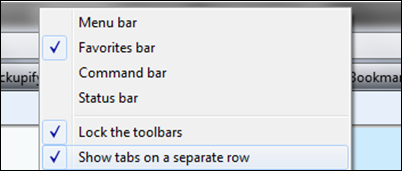 Bookmarklets
I love Google Chrome extensions, especially because of the fact that it's situated in a strategic position right next to the Url box. The second best thing I find for me to have the same functionality is to use bookmarklets. I manage to create shortcuts for Read It Later and Delicious.
To do this simply:
Find the bookmarkets that you want to use (for e.g. Read It Later bookmarkets, Delicious bookmarklets)
Add to Favorites\Favorites Bar
Show Favorites Bar so that you have easy access to them and simply delete the other default bookmarks.