10 Best iPhone 4 Cydia Tweaks (2011)
Here's my favorite Cydia Tweaks:
1. AndroidLock XT
Envious of our Android user friends for having a cool lock screen : envy no more.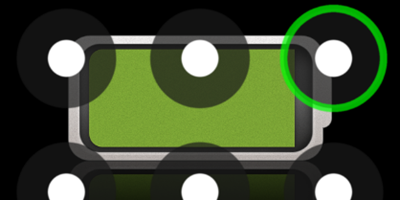 2. Activator
Activator allows you to configure shortcut gestures to launch your favourite app. I've got mine set so that when I flick the status bar downwards, Notified would appear : just like Android's notification screen.
Also, I set it up so that if I double tap the status bar SBSettings would appear : I have easy access to turning services on and off.
3. Barrel
Barrel brings animation to the Springboard (iOS main app menu). You could configure it to 3D rotate, fade, etc.
4. SnapTap
Finding it hard to take a photo with the out-of-the-box camera with one hand? SnapTap hooks in to the volume button to trigger the camera. Very handy!
5. SwitcherMod
This is what iOS multitasking ought to be. iOS mixes up the metaphore of active apps and recently launched apps, which can be a pain if you're an OCD and wanting to keep your phone's memory free.
SwitcherMod allows you to configure the multitask bar to give visual distinction to apps that are really running on the background, and the ones that's not. I set mine up so it simply hides the recent apps.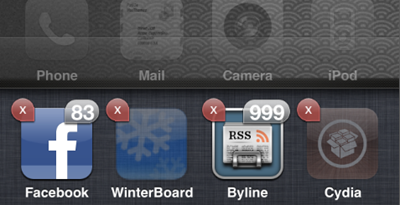 6. WinterBoard
Skin your iOS screens away : including changing all the icons.
7. SBSettings
Easy access to typical iOS services like bluetooth, GPS, WIFI.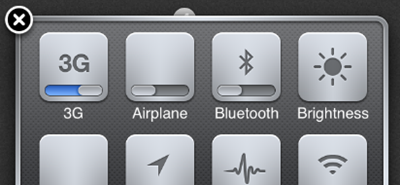 above: I'm using Serious SBSettings HD theme.
8. Notified
combined with Activator, you get Android style global notification window.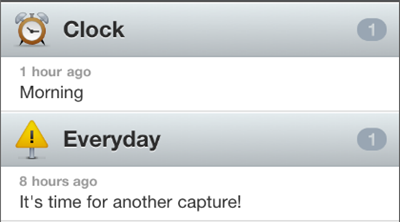 9. MiddleWhat
MiddleWhat brings back FaceTime for phones that doesn't have them due to region restriction.
10. DreamBoard
an alternative to WinterBoard, DreamBoard promises a greater control of theming/skinning your iPhone. Apparently it's so new that it still has stability proble, so to be honest I haven't tried this. From the video it seems you could make iOS so it looks exactly like an Android phone.