How to deploy an Azure role from Visual Studio 2010
1. Create a security certificate
Open up Visual Studio Command Prompt.
Go to the directory where you have access to create files and wants to store the cert.
Run the following:
makecert -sky exchange -r -n "CN=<CertificateName>" -pe -a sha1 -len 2048 -ss My "<CertificateName>.cer"
You should now have a .cer file.
This cert will be used to establish a trust relationship between Azure and the VS2010 for management purposes.
2. Create the private key certificate
From the start button, find certmgr.msc.
Go to Personal > Certificates > find the certificate that you just created in the list there (it should automatically appears there).
Right click > all tasks > export
Pick '˜Yes, Export the private key'.
You should now have a .pfx file
This private key will be used to encrypt/decrypt usernames & password such as those for RDPs.
3. Upload our certificates to Azure Portal
Go to https://windows.azure.com/
Go to Hosted Services, Storage Accounts & CDN > Management Certificates > Add Certificate and upload our .cer file.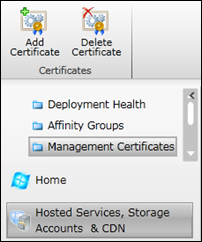 Go to Hosted Services, Storage Accounts & CDN > Hosted Services > Certificates and upload our .pfx file.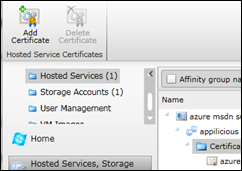 4. Right Click on your Azure project > Publish
Pick '˜Deploy your Windows Azure project to Windows Azure' and expand.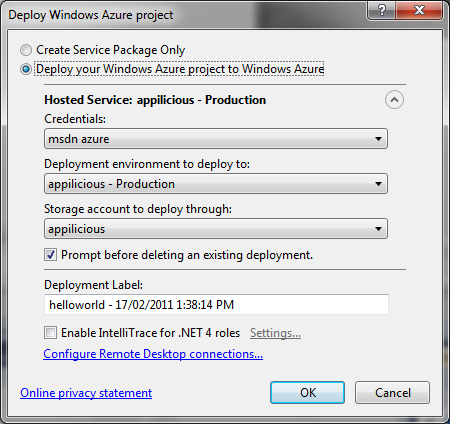 Create a new credential by picking the newly created cert from the list, and fill in the rest.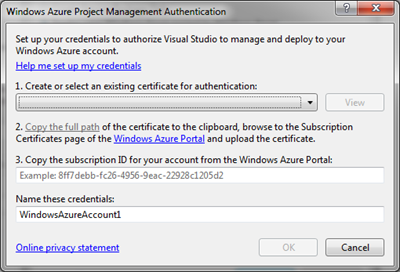 P.S. So here, apparently you're supposed to be able to create a cert. It never worked for me. It says that the cert doesn't have a private key associated to it. Bummer. Otherwise it would've been a lot easier.
Press OK.
Voila. You should now be able to publish from VS2010!