Wrapping up TechEd Middle east with a nice surprise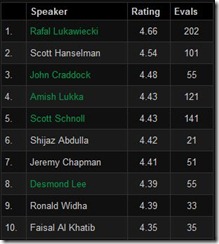 a nice surprise
TechEd Middle East 2010 just ended. It was unfortunate that I couldn't attend the whole 3 days. Regardless, it was such good fun. Obviously I had a chance to meet and chat with the MVPs from the region and the veteran speakers like Scott Hanselman and Aaron Skonnard. Expect to see a few TechEd photos once I got them from Anton Delsink.
Did both of my sessions (EF4 and panel with Hanselman) today, and what a nice surprise; The current ladder says that I'm in the top 10 speakers ladder. Obviously the numbers of vote or somewhat low so probably skewed to an ('¦err..alot of) extent. But, I take what I can get ;)
I want to share you a couple of the nice folks who left me with encouraging comments:
'Ronald was awesome. He did a very good job. He explained things in a very well manner. I look forward to attending his more sessions.'
The first comment was probably made by Andrew Mackay, I can so hear him saying that ' '¦. he did a very good job.' Definitely Andrew! ;)
More comments below
'Great Knowledge outcomes. Thanks Ronald'
'Nice overview, would have liked longer or more sessions on subject'
'It's very nice session'
'Was a wonderful session in terms of showcasing what I can do with Entity framework. And it motivated me to use the same in my next project.'
'¦
Thanks to Anton, Hammad Rajjoub and Julie Lerman (The Data Farm) for taking the time to review the slides, demos and giving valuable feedback!