Das Hanselman wants a piece of this!
At Tech Ed Middle East I'll be co-hosting an interactive session with few panelists, including Scott Hanselman. Very exciting!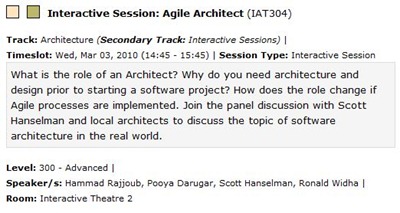 The topic is discussing something that is close to my heart; the role of an Architect, especially an Agile Architect. What's the difference between a senior developer and an architect?
I'd love to hear your thoughts! Give Hanselman a piece of your mind on the day! ;)


funny pictures
photo funny
funny picture
foto funny
funny videos
funny pics
funny clips
funny photos
youtube funny videos
comedy videos
jokes of the day
youtube funny
funny images
funny video
you tube funny
funny stuff
fun photo
funny videos youtube
funny cat videos
funny video clips
hello kitty pictures
fun facts
meme comics
funny meme
funny sayings