What does Tweetdeck support for Facebook mean?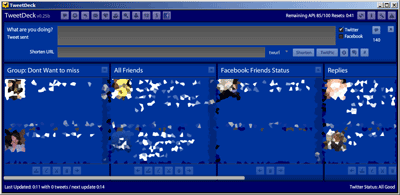 Tweetdeck has just released a new version. v0.25b


I received a prompt on my tweetdeck asking if I wanted to upgrade to the latest version. The next minute, I noticed that the shiny looking bird, was now surrounded by a yellow comic bubble. 'What a nice upgrade?' I thought. Not everyday you get a new icon after an update.
What comes as a surprise is this popular twitter client now also supports facebook status. Despite the constant glitch of showing the same number 'notification: 93 facebook status updates' again and again for every 60 seconds; the functionality seems to work beautifully. I can now be pleasantly greeted with 93 'Happy easter' messages.
Tweetdeck-support is like a baptism for welcoming Facebook as a serious micro blogging platform. It is one of the most popular twitter client which will definitely push facebook status adoption. TweetDeck, in my opinion, will convince all but the most skeptic microblogger to adopt facebook as their chosen platform.
Tweetdeck implements the integration through the facebook Connect API. This is a big win to facebook. I don't think I have seen a worthwhile implementation of Facebook Connect thus far. Leaving a comment using my facebook credential just simply don't cut it. Most will stick to using a name and url, or an OpenId. Not only these people will avoid unwanted spam on their facebook account (friendster all over again?), they might also increase their blogs' google rank in the process.
TweetDeck also convinced me that there is indeed a room for Facebook Connect, albeit the fact it is 'just' re-engineering the same feature that is already accessible elsewhere. It successfully rejuvenate my fond of facebook after the homepage redesign disaster.
What's after this?
The world doesn't need another digsby or trillian. TweetDeck might need to seriously consider to integrate with the Open Social standards. This is a compulsory step to avoid over-bloating what used to be a nice little app.